Kissed By The Whip | Katy Kiss
Nov 11, 2016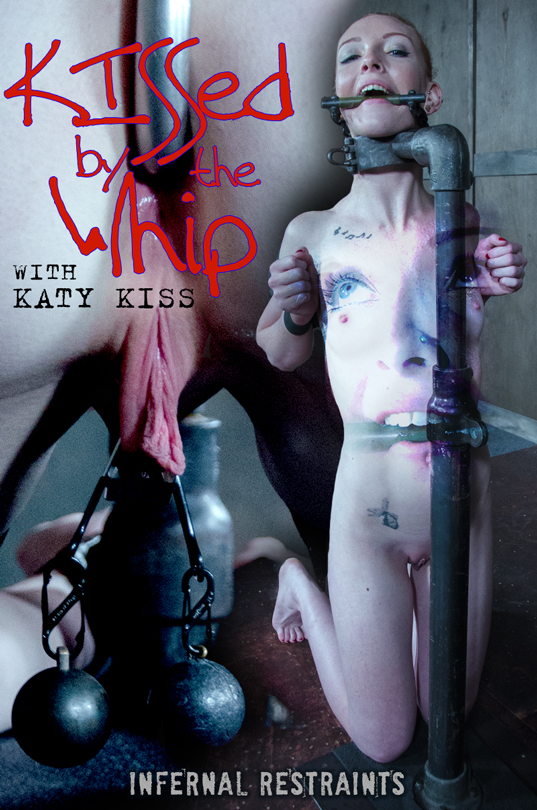 Katy Kiss came into our dungeon looking all cute and done up for her show. She wore a tiny red dress, high heels, and sexy sheer black stockings that make her legs absolutely irresistible. She even did her make up precise with fancy winged eyeliner. O.T. really likes that look on her, but what he likes more is seeing how easily he can make such a pretty, composed girl crumble completely into a heap with just a few of his favorite toys.

Katy starts out in a metal collar with her hands shackled to a frame just low enough so that she has to keep her ass sticking out to stand. O.T. takes the opportunity to get a feel for her body, running his hands over her tits, down her sides, and all over her ass, even taking a moment to spank her. Then, when his urges get the better of him, he moves her so that she is down on all fours on top of a table and lets her enjoy herself. He slips an ass hook inside of one hole and a dildo in the other, then he turns on the celebrator vibrator and starts fucking her. Katy can hardly take the double penetration, letting out shrieks and getting wetter every second.

Then it's back to O.T.'s kind of fun. He puts Katy down on her knees, holding her upright with a metal collar on a frame so that he can see her sexy body stretched out for him. The next thing Katy knows she has a plastic bag over her head and she can barely breathe, and there's nothing she can do since O.T. belted her arms to her body so that she's holding onto her own tits. And then there is the sharp, searing pain of a whip cracking against the soft skin of her ass over and over. Katy sits there on her knees and wriggles and shrieks, nothing like the cute dolled up girl we knew forty five minutes ago.
Sexy redhead is bound, and
double fucked till broken,
massive orgasms, brutal deep
throating! | Katy Kiss | Dee Williams | Matt Williams


Oct 31, 2016


79 Images • 9:12 Min Video

Sexy red head is bound, and double fucked till broken, massive orgasms, brutal deep throating!

Happy Halloween! Today we offer the amazing Katy Kiss for your sexual destruction on this most awesome holiday.

Bound on her back with her arms securely bound in a brutal strappado position, Kati is about to get the throat fucking of her life. Dee and Matt bring the cock and soon our tiny red head is struggling to breath as we stuff inch after inch of cock down her helpless throat. Kati is fucked and fucked hard from both sides. She cums and cums while struggling to get air from the cock that fill her face hole.

No acting nothing faked, just amazing bondage and brutal sex, it's why we are continually nominated from AVN and Xbiz, year after year.
Arched | Katy Kiss | Matt Williams
Oct 19, 2016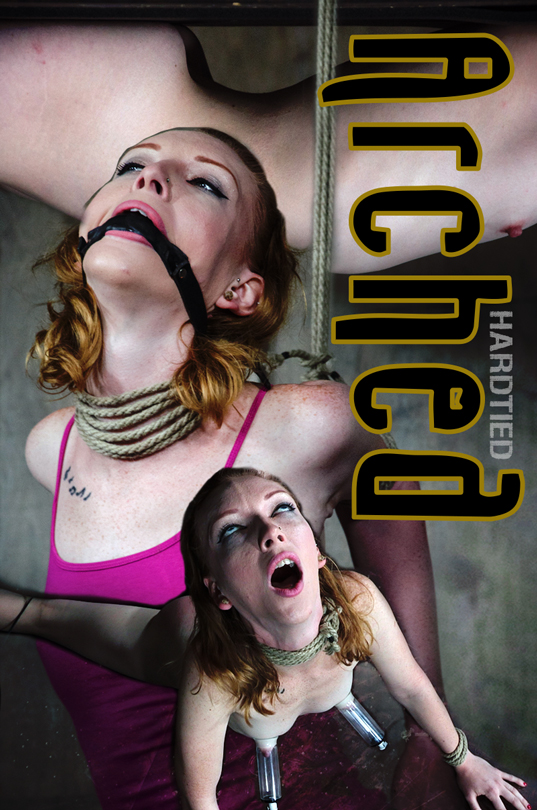 Katy Kiss has one of those long, thin bodies like a model, and when Matt Williams sees a body like that, he knows all he wants to do is bend it like a pretzel. Katy's body isn't the only thing that's going to be bent today. Her will and resolve will be flexed within an inch of breaking. It's going to be pretty rough on her, but she wouldn't want it any other way and neither would any of us.

After Matt has Katy gag herself with a black ball gag, he grabs some rope and ties her arms back into a brutal strappado. Then he adds a neck rope, which he ties up to the ceiling so that Katy can feel the tension in her neck. He takes this opportunity to practice his forehand, spanking Katy until her ass turns bright pink. After that it's off with her clothes and on with the torment. Takes out his scissors and cuts away her clothing until she is bare, and adds a crotch rope threaded between her thighs. The rope rubbing right up against her clit is a lot for Katy to handle, but not nearly so much as the hitachi Matt is about to put there.

Matt ties Katy to the top of a table, each of her limbs to one of its legs, so that her back is arched up and her torso open to whatever he wants to do to it. He clips some nipple clamps onto her tits and decides to give her the flogging of her life. He swings the flogger at her pussy, at her stomach, at he perky little tits, and all the while she is crying out and tearing up. Eventually the sensation becomes too much for her. Matt stops hitting her, puts the flogger down, picks up her head and lets her catch her breath. Then, once she has recovered herself, he takes out the hitachi and lets her have a little fun.
Katy Kiss the sexy tall
redhead, is severely bound,
deepthroated and brutally
fucked into darkness. | Katy Kiss | Dee Williams | Matt Williams


Sep 21, 2016


100 Images • 12:16 Min Video

Tall leggy redhead is rope bound, face fucked, pussy fucked and made to cum over and over!

We have the tall leggy, Katy Kiss back. Her beautiful body just begs to be bound and sexually abused. She has a special lust for Dee Williams and her massive boobs and dick, so by Katy's wish Dee is back to bang the fuck out of our sexy redhead.

Katy is rope bound elbows together and strappado'd, her legs are frogged and she is completely helpless. The look of pure lust when Dee walks toward her alone, is worth the price of admission. A rope from Katy's neck is actually holding up her strappado, so if she tires she slowly begins to choke herself out.

Then we bring the cock, we work over Katy's throat with big hard dick. It doesn't take long for the neck rope and penis to make our sexy redhead struggle for air. Katy receives a brutal face fucking that sends her deep into subspace. Soon the throat is not enough, and we hike Katy up so we can get at her perfect shaved pussy.

Katy is fucked hard and brutally. She cums over and over while the neck rope does it's job. Soon Katy is cummed out and broken, we leave her struggling to breath as her strappado is slowly taking Katy into the darkness.
New to Sexually Broken,
Slender Katy Kiss Is Used By
Hot MILF and Made to Cum! | Katy Kiss | Dee Williams


Aug 1, 2016


145 Images • 14:14 Min Video

Katy Kiss Shows Off Her Deep Throat Skills on Lesbian's Strap On!

Katy Kiss loves bondage and rough play and Dee is willing to deliver. Katy is first vibrated as a warm up but the face fucking and breath play is what really gets her off. Katy is choked by dick, smothered by Dee's sexy ass and big breasts and vibrated. She is drooling, gasping, cumming and loving it the entire time. This enthusiastic little hottie is begging for more and we are sure to have her back for much more.